Another Republican throws their hat in the ring for President -- this time a person who is very much the social conservative but also while in the Senate was strong on defense and foreign affairs. We have heard him speak and he kept our attention unlike a few people who almost put you to sleep. Will be interesting to watch the field unfold but must say would rather have Santorum than a Huckabee.
One of the oddest things we saw today on a conservative website was touting a Ryan/Rubio ticket. The same people who say that Obama is not a natural born citizen are touting Rubio who was born in this Country to parents who were still Cuban citizens as they were not here for the full five years. Do some conservatives not know the Constitution requirements to be President any better than the Democrats?
Make mistakes from time to time on here and we thank the people who point them out so we can make the correction. Before an article goes up, it is researched not just relying on the sites where we got the original information unless it is for humor. Not afraid to pick up a phone and verify as well. We actually thought there was so much information out in public about what constitutes a natural born citizen.
At least we know Santorum is a natural born citizen.
Rick Santorum 2012 Campaign For President Launches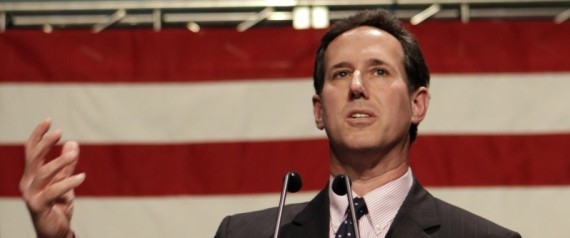 Santorum, a favorite among his party's social conservatives, chose to confirm his plans during an appearance Monday morning on ABC's "Good Morning America" at the banner-draped site he chose in the western Pennsylvania coalfields for his formal announcement.
In the network interview, Santorum accused President Barack Obama of having a weak foreign policy, saying he doesn't feel he has stood up sufficiently to Iran and asserting he has done too little to speak out against Syrian President Bashir Assad for the violence there.
(snip)
The blunt-talking conservative lacks the name recognition and fundraising organization of his better-known rivals, but the two-term senator's advisers are counting on social conservatives who have huge sway in some early nominating states and have yet to settle on a favorite candidate.
So far, those social conservatives are weighing already declared candidates such as Pawlenty and potential contenders Bachmann and former Alaska Gov. Sarah Palin.
Santorum, a lawyer by training, had been laying the groundwork for a presidential bid when he lost a bruising re-election bid to the Senate in 2006. His opposition to abortion, gay marriage and embryonic stem cell research makes him an appealing candidate for conservatives. But his sometimes abrasive style alienated voters in Democratic-leaning Pennsylvania, and they replaced him with Bob Casey, an anti-abortion Democrat.
Santorum's policy positions align with national conservatives who now are looking at many of the expected candidates with skepticism.
Romney's changes of heart on gay rights and abortion do little to help his second presidential effort. Gingrich is twice divorced. Huntsman, who worked for three Republican administrations, nonetheless accepted Obama's offer to be the U.S. ambassador to China.
Santorum, 53, has his own hurdles to overcome: He has been out of elective office since 2007 and lacks the robust fundraising or personal wealth of his likely rivals.
He is expected at next Monday's debate in New Hampshire, which is likely to include more of the expected field.
Excerpt: Read More at
Huffington Post